I have updated to a better sight. Please update your link.
http://castilloscastle.tripod.com/thecastle/index.html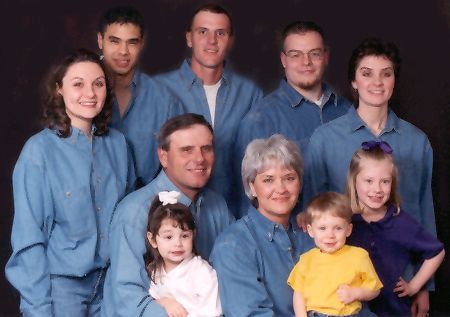 This is a picture of Maleea's Family. Mom and Dad, Sister + Husband and brother. Marlee has been staying with Marsha and Lee for the past two weeks since school got out, enjoying playing with her cousin's and swimming everyday! Masen is doing great. He has been trying to talk more and more every day. I have recently started a new job with a company called Productivity Point International. We provide technical trainning for companies and there employees. I handle different company accounts and make sure employee's get signed up for what courses they need and that we get PAID. Maleea is doing great! Being the great mom she is, she keeps us all in line plus babysitts two toddlers full time for friends of ours. How she does it.. I DONT KNOW.. Well check back with us soon for more updates on the life and times of the Castillo family. Adios!!
The One-minute Page builder makes Web page publishing fast and easy. I can add my own picture and text, plus news, weather, my daily horoscope, and my favorite links!
[an error occurred while processing this directive]
[an error occurred while processing this directive]